Bioplastics & Biodegradable Products Manufacturing Handbook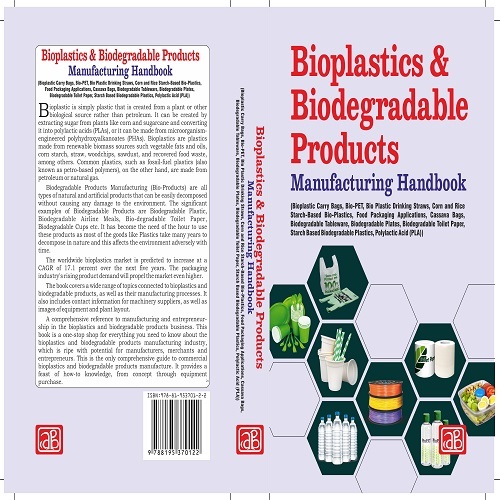 Bioplastics & Biodegradable Products Manufacturing Handbook
Product Description
(Bioplastic Carry Bags, Bio-PET, Bio Plastic Drinking Straws, Corn and Rice Starch-Based Bio-Plastics, Food Packaging Applications, Cassava Bags, Biodegradable Tableware, Biodegradable Plates, Biodegradable Toilet Paper, Starch Based Biodegradable Plastics, Polylactic Acid (PLA))

Bioplastic is simply plastic that is created from a plant or other biological source rather than petroleum. It can be created by extracting sugar from plants like corn and sugarcane and converting it into polylactic acids (PLAs), or it can be made from microorganism-engineered polyhydroxyalkanoates (PHAs). Bioplastics are plastics made from renewable biomass sources such vegetable fats and oils, corn starch, straw, woodchips, sawdust, and recovered food waste, among others. Common plastics, such as fossil-fuel plastics (also known as petro-based polymers), on the other hand, are made from petroleum or natural gas.
Biodegradable Products Manufacturing (Bio-Products) are all types of natural and artificial products that can be easily decomposed without causing any damage to the environment. The significant examples of Biodegradable Products are Biodegradable Plastic, Biodegradable Airline Meals, Bio-degradable Toilet Paper, Biodegradable Cups etc. It has become the need of the hour to use these products as most of the goods like Plastics take many years to decompose in nature and this affects the environment adversely with time.
The worldwide bioplastics market is predicted to increase at a CAGR of 17.1 percent over the next five years. The packaging industry's rising product demand will propel the market even higher.
The book covers a wide range of topics connected to bioplastics and biodegradable products, as well as their manufacturing processes. It also includes contact information for machinery suppliers, as well as images of equipment and plant layout.
A comprehensive reference to manufacturing and entrepreneurship in the bioplastics and biodegradable products business. This book is a one-stop shop for everything you need to know about the bioplastics and biodegradable products manufacturing industry, which is ripe with potential for manufacturers, merchants, and entrepreneurs. This is the only comprehensive guide to commercial bioplastics and biodegradable products manufacture. It provides a feast of how-to knowledge, from concept through equipment purchase.
Contact Us
B No. 106-E, Kamla Nagar, Near Spark Mall, Delhi, Delhi, 110007, India
Phone :+918071858931202