Detailed Project Report on Bamboo and Bamboo based Products Industry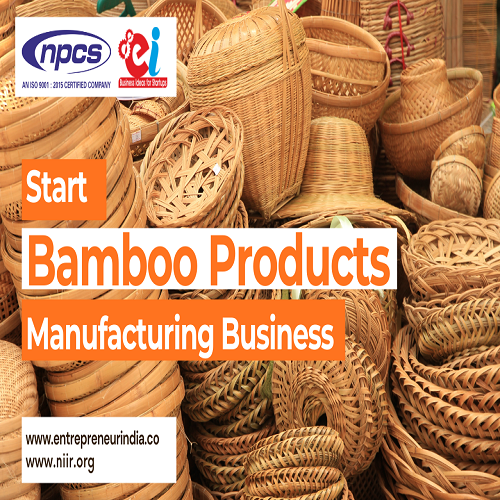 Detailed Project Report on Bamboo and Bamboo based Products Industry
Price And Quantity
Piece/Pieces

500-onwards INR
Product Description
1st,Activated Carbon from Bamboo
With bamboo becoming one of worlds fastestgrowing plants, it makes perfect sense to look for ways to use it. Among otherthings, bamboo can be ground into activated carbon used for filtrationpurposes. Activated carbon is used to filter water by removing contaminantsthat are dissolved or suspended in water. The resulting purified water iscalled activated carbon
2nd,Paper from Bamboo: Paper madefrom bamboo is typically both eco-friendly and biodegradable. And, with suchhigh demand for environmentally friendly products these days, theres neverbeen a better time to start a business of paper from bamboo. This market isgrowing at an annual rate of 20%. If you're looking to start a business, here'san idea: create your own line of environmentally friendly bamboo paper goods!
3rd,Bamboo Furniture: Bamboo hasbecome a popular material for furniture, due to its strength and beauty. Bamboofurniture is sustainable because it can be harvested without hurting bambooplants or natural environments. Getting into business with bamboo can be quiteprofitable.
4th, BambooSticks: If youre thinkingabout starting a business, but arent sure what industry you want to get into,consider bamboo sticks. The bamboo sticks industry is booming, with growthrates expected to stay high over the next few years. This makes it an idealtime to start your own business of bamboo sticks.
Ply Board is another important product made of bamboo. Plyboards are easy to carry and inexpensive than other woods used for making plyboards. These features make it possible to replace ply board with other woods.Ply boards can be used for making cabinets, furniture, shelves etc. Itscomparatively cheaper, faster and easier to do business in bamboo ply productsindustry.
Niir Project Consultancy Services(NPCS) can prepare project reports on any business idea you have. The projectreport includes all part of the business, from market analysis to confirmingthe availability of numerous necessities such as equipment and machinery, rawmaterials, and financial projections. Engineers, project consultants, andindustrial consultancy businesses from all over the world have profited fromthe NPCS project report. NPCS also publishes technological, technical,reference, self-employment and startup publications, a directory, company andindustry database, and much more, all of which may be found on the officialwebsite.
Contact Us
B No. 106-E, Kamla Nagar, Near Spark Mall, Delhi, Delhi, 110007, India
Phone :+918071858931202