Detailed Project Report on Edible Oil Industry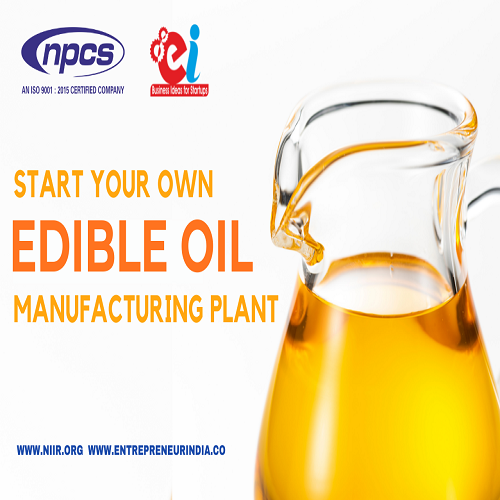 Detailed Project Report on Edible Oil Industry
Price And Quantity
Piece/Pieces

500-onwards INR
Product Description
Edible CornOil: You might havethought that corn oil was just another cooking oil, but its actually much moreversatile. Also known as maize oil, it is used in food manufacturing, animalfeed and even cosmetics production. Edible Corn oil market is expected to reach$ 7.0 billion in the next 4-5 years. Rising demand for edible corn oil fromretail, food processing and food service industries is expected to keep thedemand growing. This makes it an appealing option for anyone looking to start abusiness in edible oils.
EdibleVegetable Oil
Vegetable oil derived from plants, commonly usedin cooking and frying. The majority of edible vegetable oils consumed are seedoils produced by plants such as rapeseed (canola), corn, cottonseed, sunflower,soybean, safflower and peanut. The high growth in demand for edible oil isprimarily driven by increasing consumption of packaged food products andhealthy eating habit among consumers. Edible Vegetable Oil market hastremendous potential and thats why many investors and new entrepreneurs wantto enter into it.
Rice Bran Oil:Rice bran oil is a new age oilwhich has been found to have tremendous medicinal values. It can be extractedfrom rice bran, a by-product of paddy rice processing and considered one of therichest sources of essential fatty acids (EFA) in nature. Rice Bran Oilbusiness is one of rapidly growing industry in todays time because of its usefor skin care and hair care products. Hence it is one of profitable investmentareas for investors.
Refined oil(Cotton seed, Ground Nut Oil & Sunflower Oil): Cotton Seed, Groundnut and Sunflower oil are usedin a wide range of edible products. They are also used in a number of otherindustries such as pharmaceuticals, chemicals, fertilizer and agrochemicals. Refinedoil is used in salad dressings, mayonnaise, baked goods, candy making andvarious other products. There are huge opportunities for start-ups to makelarge profits by refining edible oils for industry use.
Mustard OilMill: Setting up a mustardoil mill is one of the most common and easiest ways to start an edible oilindustry. Mustard oil is an edible vegetable oil, derived from mustard seeds.Mustard oil industry has witnessed huge demand as the Mustard Oil is one of thefinest cooking oils for heart patients since it contains an excellent Omega 3(MUFA) and 6 Fatty Acid composition Linolic and alpha Linolenic Acidrespectively. Mustard oil Market size was estimated at $21.6 billion in 2020,projected to grow at a CAGR of 3.8% during the forecast period 2021-2026.
Niir Project Consultancy Services(NPCS) can prepare project reports on any business idea you have. The projectreport includes all part of the business, from market analysis to confirmingthe availability of numerous necessities such as equipment and machinery, rawmaterials, and financial projections. Engineers, project consultants, andindustrial consultancy businesses from all over the world have profited fromthe NPCS project report. NPCS also publishes technological, technical,reference, self-employment and startup publications, a directory, company andindustry database, and much more, all of which may be found on the officialwebsite.
Contact Us
B No. 106-E, Kamla Nagar, Near Spark Mall, Delhi, Delhi, 110007, India
Phone :+918037551056