Handbook on Paints and Enamels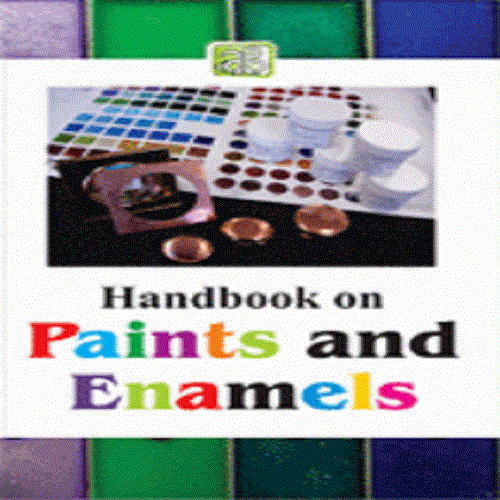 Handbook on Paints and Enamels
Product Description
Paints and enamel industry is gaining ground at a rapid pace in modern time accompanied with closed advance in surface coating technology. They are formulated for specific purposes: outside house paints and exterior varnishes are intended to give good service when exposed to weathering; interior wall paints are formulated to give excellent coverage. Enamel paint is paint that air dries to a hard, usually glossy, finish, used for coating surfaces that are outdoors or otherwise subject to wear or variations in temperature; it should not be confused with decorated objects in painted enamel, where vitreous enamel is applied with brushes and fired in a kiln. Indian paint industry has a bright future. The Indian paints market has the potential to grow over the next decade at 15 to 20 per cent per annum owing to more investments in the housing segment and improving infrastructure ,high growth in the Indian automobile industry, etc. which in turn would mean greater demand for paints, as most people aspire for better lifestyle. Moreover the per capita consumption is also low. The demand for premium category paints is likely to increase with rise in construction of commercial infrastructure. The players with aggressive marketing strategies and comprehensive product portfolios will grow at a faster rate. The emerging trends in technology and marketing indicate that the industry is likely to consolidate in the coming years with industry leaders improving their market share.

Some of the fundamentals of the book are exterior paints, rapid drying stain and blister resistant house paint, exterior white paint, flat exterior paint, exterior alkyd paint, green trim paint, outside white house paint, hi hiding gloss white house paint, white primer, exterior white house paint, speciality paints, book cloth coating, upholstery fabric coating, green epoxy polyamide flexible fire retardant coating, fire retardant clear topcoats, ignition waterproofing seal coating, polyurethane paper coating, fluorescent gravure ink, industrial paints, aluminum baking enamel, gloss black enamel, corrosion resistant baking primer, heat resistant primer, orange baking enamel, purple baking enamel, black baking enamel, red baking enamel, blue baking enamel etc.

This book is the outgrowth offered in the chemistry and chemical engineering of organic polymeric and resinous substances. Needless to say such a book is not available because of the rapidity of growth in the polymer field; it has been difficult to resist the temptation to all with new discoveries and products. The book is emphasized on Formulation and manufacturing of different types of paints, enamels and allied products. It was purposely made wide, so that the book could be used as a text regardless to particular field of interest. All the chapters are introduced separately with simpler language. The book will be very resourceful for technocrats, new entrepreneurs, industrialists and for those who wants to diversify into this field.
Contact Us
B No. 106-E, Kamla Nagar, Near Spark Mall, Delhi, Delhi, 110007, India
Phone :+918071858931202