Handbook on Speciality Gums, Adhesives, Oils, Rosin & Derivatives, Resins, Oleoresins, Katha, Chemicals with other Natural Products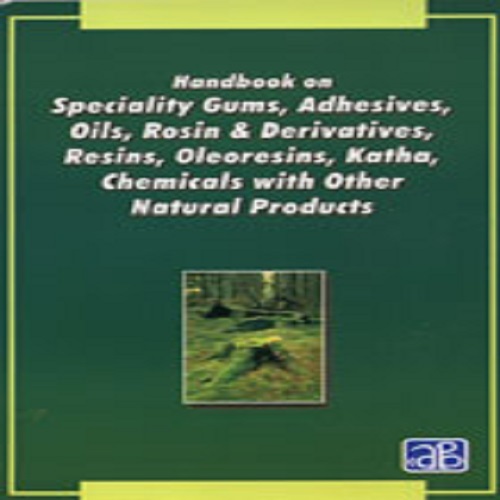 Handbook on Speciality Gums, Adhesives, Oils, Rosin & Derivatives, Resins, Oleoresins, Katha, Chemicals with other Natural Products
Product Description
The forest in India yields a large number of products, which play an important role in the economy of the country. Natural products may be extracted from tissues of terrestrial plants, marine organisms or microorganism fermentation broths. A crude (untreated) extract from any one of these sources typically contains novel, structurally diverse chemical compounds, which the natural environment is a rich source of. There are numerous product which is has a vital commercial applications for example gum karaya, locust bean gum, tamarind gum, rosin and rosin derivatives, turpentine and its derivaties, tall oil and its derivatives, essential oil of deodar, essential oils of cinnamum species and many more. Gum is any of a number of naturally occurring resinous materials in vegetative species. Various essential oils are also obtained from natural resources like deodar, Juniperus recurvavar, Suamata, Cinnamum species, agar wood etc. Tall oil products find use in many product applications because of their economy and ready availability. Tall oil is more like a chemical product with a constant and dependable supply and a steady price. It has a large number of applications like; adhesives, carbon paper, cement addition agent, detergents, drawing oils, fungicides, lubricants, soaps, rubber additives, surface coating etc. Phenolic adhesives continue to be the most significant adhesives for the production of weather resistant wood products. In terms of volume of trade, revenue and employment potential, the minor forest products have surpassed the traditional major forest products viz, timber, firewood, pulp, wood etc. Aromatic and medicinal plants are one the major resource from forests; the medicinal plants have been used since ancient times for the treatment of human ailments. Rosin, also called colophony is a solid form of resin obtained from pines and some other plants, mostly conifers, produced by heating fresh liquid resin to vaporize the volatile liquid terpene components. It is semi transparent and varies in color from yellow to black. At room temperature rosin is brittle, but it melts at stove top temperatures. It chiefly consists of different resin acids, especially abietic acid. Oleoresin is a naturally occurring mixture of oil and a resin extracted from various plants, such as pine or balsam fir. Over three quarters of the world population relies mainly on plants and plant extracts for health care. Natural products have evolved to encompass a broad spectrum of chemical and functional diversity. It is this diversity, along with their structural complexity, that enables small natural molecules to target a nearly limitless number of biological macromolecules and often to do so in a highly selective fashion. Because of these characteristics, natural products have seen great success as therapeutic agents. However, this vast pool of compounds holds much promise beyond the development of future drugs.
This book makes an attempt to provide information of chemical nature, physical properties, manufacturing process, purification, applications, and compatibility of gums, adhesives, oils, rosin & derivatives, resins, oleoresins, katha, chemicals with other natural products. This book contains chapter on rosin and rosin derivatives, esterification of methylolated rosin, turpentine and its derivaties, tall oil and its derivatives, tall oil in liquid soaps, essential oils of cinnamum species, utilization of tannin from waste conicer barks, katha production in Tarai area of Uttar Pradesh, adhesives for wood based on natural polyphenolic substance, etc.
This book contains process of forest based products like Gums, Resins, Oleoresins, Essential Oils and other natural products obtained from Indian forests. It gives an insight of richness and vastness of the forest wealth. This book is first of its kind, which covers comprehensive treasure of information on a wide variety of products. This is very resourceful book for students, growers and marketing agencies, country where there is rich flora and fauna awaiting proper exploitation, production and utilization.
Contact Us
B No. 106-E, Kamla Nagar, Near Spark Mall, Delhi, Delhi, 110007, India
Phone :+918071858931202